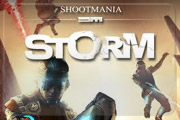 A new tournament, ladders and leagues website has been opened under the name of ShootMania-Tournament.
With the opening of the website, the organizers have decided to push out a first cup with several prizes to win. The ShootMania-Tournament #1 will be played on 23 and 24 July and will be open to 64 teams. The gameype will be Elite 3v3 as always, and streaming will be done by
nVc
in English and
Millenium TV
with Surion in French.
There will be several prizes to play for, such as ShootMania pre-purchase keys, cash prizes and tickets to South LAN Event. The registrations will be open and you can register on #ShootMania.Cup on Quakenet. Further details can be found below.
Source: ShootManiaEsports.com
Edited by roychez at 17:46 CDT, 14 July 2012 - 3993 Hits