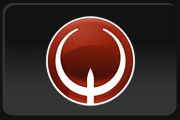 I was thinking of
seven's article
, and the discussion that followed about content and form. People seem to know about content, so this is your occasion.
Imagine you could ask 5 questions to the dev team of quake live. Try to avoid stuff they may not be willing to answer (like how many people bought premium/pro), but concentrate on what really this community would like to know.
To get the context, track syncerror's replies here:
click and scroll down
.
Edited by Memento_Mori at 04:49 CDT, 25 August 2010 - 428189 Hits