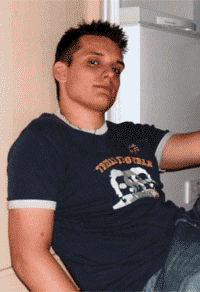 Full Name:
Jimmy Jørgensen
Timezone:
Europe/Copenhagen
E$ Money:
500 (500 available)
Buddy list:
Description:
Profile update 12th of september 2005.
I competed in eswc 2004 representing my country in Quake 3 1on1. We did ok but wasnt able to make much difference in the top 3, although we took one map from the winners, Sweden(gogo brescia!).
Atm. i'm putting some effort into CPMA which i have found is a largely underplayed/underrated mod, its greater each day i play it.
Mainly im looking forward to Quake 4, something "compeletely new, never seen before" but im certain its gonna be played a lot, so even if its bad, well, im propably still there, just for the competition.
13th of september 2005
New profile picture! omgz!
28th of september 2005
changed my config a little, removed some stuff added some other, nice nice check it out.
14th of april 2007
My internet have been really crap since i moved to a new apartment, but at least i have Quake 3 running smooth now, and i am competing in the Clanbase Open Cup of CPM 1on1.
12th of July 2007
I finished second in the Clanbase Open Cup, but it was a bit cheap, lots of walkovers...
ATM i'm competing in QuakeWorld Rookie tournament, and some Kenya FFA rookie tournament.
The game is "ok" i dont think the gameplay is as good as cpm, but its getting better the more i play :)
5th of August 2007
Today is the winners final of the rookie tournament i played for around a month now. Im probably gonna finish second, the other two players are really good.
www.quakeworld.nu
you can check the info about it.
Also two weeks ago i managed to win the Free Thursday Kenya FFA tournament, which was very nice.
One of the great things about the QuakeWorld is the community it has. People are extremely devoted and helpful in all matters. Yet i think some of the maps(played in duel at least) didnt catch up with time. Maps like DM4 are just so random against two good players and really comes down to who attacks and who defends(the offensive guy will most often lose i think)
22nd of december 2007
So QuakeWorld was a short flirt for me, i wanted to know what it was all about, but this game is just not as good as CPM is. So now back to CPM in full having fun with pickups and duels. I'm anticipating the coming duel leagues in january, and i hope that ESWC will pick CPM gameplay for their tournament, but i doubt that will happen. But hope remains :)
1st of may 2008
Playing CPM in its latest version my team Xerp, consisting of Thormam, FunnyB, ddk, reptile and me won the April version of "Monthly CPM CTF cup" i didn't play in the final, but had a good game in the semifinals. In January i finished 3rd in the biggest CPM 1on1 tournamentin over a year: "Winter Shivers" , which was really a surprise to many, even to me, so that was really nice, the tournament was great with lots of games, so lets hope Seever and fpt will do another one sometime.
27th of February 2009
Still playing CPM and still loving it. Tried the open beta of Quake Live, so far it's quite annoying that you need to wait in line to play, and playing the practice match against Crash was kinda dull winning 15-0 then having to play again.
Guess its still CPM for now. arQon was hired by id Software which is great news and might mean theres hope that Quake Live will indeed be a great bug-free game.
Update my cfg btw. including hud in a nice zip-file.
Also stop by #cpmpickup on quakenet for some nice fragging :)
23rd of May 2009
Playing Quake Live with #2k.clan in tdm, i'm trying to give the game a chance to prove its depth, its still got some changes to really be awesome but the game is not really that bad. What is bad is the general opposition against trying to improve it even though the game is still in a BETA state. It seems that even with valid reasoning and arguing so many people are extremely conservative and distrust the suggestions validity.
27th of May 2011
First update in 2 full years. My time spent on Quaking is diminishing, i'm gonna be a dad in 5 months, which i'm excited about and my time spent in Quake atm. is spent in Quake Live playing mainly FFA. I still think the game lacks in a lot of places, but i love how easy you can find a game and jump right into the action when you find a few hours play. :o)
31-12-2014
My kid is 3 years old by now. I really miss playing quake, but sometime i will be back. :)
05-03-2018
After a few years absence i've been back for a while.
I now have 2 kids and third on the way, and also working hard on a youtube series "Quake Tips" which i hope will be a good guide for new players to Quake Champions.
Mon
Tue
Wed
Thu
Fri
Sat
Sun
1
2
3
4
5
6
7
8
9
10
11
12
13
14
15
16
17
18
19
20
21
22
23
24
25
26
27
28
29
30