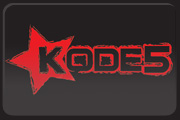 Scheduled: 03:00 CDT, 25 August 2006 to 04:00 CDT, 27 August 2006
Schedule:
Passed
Today (25 August) matches will commence for the
KODE5 Q4 Finals
being held at
Games Convention 2006
, Leipzig,

Germany.
Breaking News
- Cooller has been disqualified from the final and the tournament. After turning up late for his game against forever, he has failed to show up for the final. The Kode5 management talked with the mousesports managers and agreed this was the only course of action available to them. K1ller will now replace cooller in the final and play Toxic.
Third place will not be awarded. The third place check for $1,000 will go to the player that took fourth place, Rafik 'Lost Cause' Bryant.
"Cooller showed up two hours late for his game after the checks have been handed to the winners. After conversations with the Kode5 officials, Cooller found out that the decision about disqualifying him from the tournament stood."
(source GGL)
Grand Final Today at 04:00 CDT.
Scorebot will be running in
#kode5.live
- It will be followed by the NGL One CS and WC3 finals.
Your hosts will be
TosspoT
and
Carmac
,
they will be providing video coverage of the event tune in
here
or
here
.
Final Standing
:
1:


toxic
$10,000
2:


k1ller $4,000
3:


LoSt CauSe $1,000
4/5:

forever &

stermy
6/7:

MaCrOsS &

Dunpeal
In addition to these cash prizes, winners from KODE5 events will also be receiving over $90,000 of top-end gaming hardware and peripherals from KODE5 Global Supporters Foxconn, Corsair Memory, and Razer.
Demos
KODE5
Edited by Levi240 at 01:19 CDT, 28 August 2006 - 282989 Hits