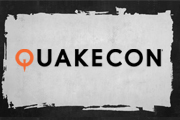 Mildly NSFW.
PlanetQuake's weekly advice column, "Dear Mynx," stripped away the hardware to take a peek at the personal lives of the people behind the game. Think of it as "Dear Abby" meets "Jenny Jones" meets "Quake II."
The "Dear Mynx," column featured in this video was originally published on the PlanetQuake website August 5th, 1999.
"QuakeCon. Casual sex at QuakeCon. Some chick in love with a geek at QuakeCon. A QuakeCon virgin afraid to go, a QuakeCon id stalker wants to meet the men behind the game, QuakeCon and drunken freaks, wanking at QuakeCon? QuakeCon. Hallelujah!"
Excited for QuakeCon 2018! (But not like that.)
Edited by dondeq2 at 21:43 CDT, 8 July 2018 - 3155 Hits