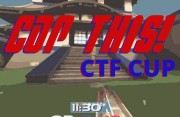 Scheduled: 16:45 BST, 13 April 2014 to 04:00 BST, 14 April 2014
Schedule:
Passed
North American Quake Live CTF? Yep, it still exists. Tune in at 16:45 BST, 13 April 2014 as some of North America's top CTF talent showcase their skills in a tournament ran by

id_
.
Not enough for you? Throughout the live stream, hosted by

fear
and

Zoot
on
ZLive
, quite a few Quake Live subscr
iption tokens will be given away.
Stream:

ZLive
Edited by wn at 16:48 BST, 4 May 2014 - 26860 Hits