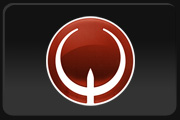 So, today i woke up early to study for my exams but i keep falling asleep on the book, so i decided instead to write this post about sponsorships. Why are sponsorships important? First of all they are because they are a good indicator of the state of Quake Live as a professional esport. The fact that many Dreamhack players attended with a sponsor shows that we're not out of the game yet. Secondly, sponsorhips determine what players are likely to get their plane tickets paid to international LANs. Right now Quakecon seems the only big cup for duel this year, but I'm confident something more will pop up with time. For team modes, another Prague TDM lan looks like a definite possibility, but team sponsorships seem to be very rare those days, so we may have to settle for another "fun over competition" LAN (that is great, obviously, don't get me wrong).
So, here's a list of players and what i know about their sponsorship status:

Titan. Cypher
Cypher is the easiest call to make, really. In all the interviews he relased at Dreamhack he stated that he's happy with his new sponsor, they said that they're "interested in sending me(Cypher) everywhere" so I would say Quakecon is a given and Prague LAN is very likely. Cypher said he signed a contract for a year, but i believe it's likely that it means until the end of 2014, so that he should be able to attend another Dreamhack Winter, if that happens.
Cypher interview:
http://www.youtube.com/watch?v=LeOVS3C3eN0

sk- rapha
I think rapha is another likely contender for the next LANs. His partnership with sk gaming has been going on for a long time and he hasn't missed an international event that i know of. Also, he lives in the US so Quakecon shouldn't really be a big problem.

8PLAY evil
Now, I don't know much about evil's sponsorship bu the fact that more than a progaming team he bears the clantag of a game development company, Infiplay. Not even a very innovative one, since on their frontpage the first thing I notice is a shameless ripoff of One Piece called "Pirate Story". The fact that my russian still sucks doesn't allow me to research much further on their website, but from what i can tell evil is the only pro player that they sponsor, and I would say this is not a good sign. Anyway, a sponsorship is a sponsorship and whatever pays you tickets to LANs is fine. After all, the part on Infiplay's statement that says "INFIPLAY [...] is going to fully support Sergey on his way to competitions." is crystal clear, so we can expect evil to be able to attend Quakecon for the second time.
Infiplay's statement:
https://www.esreality.com/post/2515090/sergey-...-infiplay/

Point Dahang,

Point apparition_
After leaving the team Evil Geniuses, Dahang attended Dreamhack Winter 2013 sponsored by Point Gaming. In his pre-Dreamhack interview Dahang stated that he "will still attend Quake events for the foreseeable future.", that being said, when asked wether Point Gaming would be sponsoring him for other events he just replied "We'll have to wait and see.". I think we can safely bet on Dahang attending next Quakecon, with or without sponsors, I wouldn't be so sure about other possible european events, everything is in the hands of Jonathan "Jochs" Ochs, the CEO of the very ambitious Point Gaming project.
Apparition_ also used to bear a Point Gaming clantag when Faceit was hosting NA cups, but he later didn't attend Quakecon nor dreamhack, so again we'll have to wait.
Dahang Interview:
https://www.esreality.com/post/2512954/dahangp...interview/

ESC k1llsen
K1llsen has been playing for ESC.Icybox for a long time, and he also has some kind of partnership with the german streaming site "Gaming Insight", he didn't attend Quakecon but he went to Dreamhack, it his possible that his contract only covers european lans, or maybe he can just attend 1 tournament per year. I guess we'll have to wait to know more about his plans for future LANs.
k1llsen on ESCgaming:
http://www.escgaming.de/index.php?mod=users&a...amp;id=271

102. ash,

102. cooller,

102. pavel
The thing is, I'm really not sure how 102 works as a team. I think at the beginning cooke paid for the trip for the whole team, this happened for example ad Adroits LAN. More recently i think cooke stated that he can't afford to do that anymore, and this led to evil's trip to quakecon being crowdfounded by 102 and then evil leaving 102 for 8PLAY. The only thing that I'm sure of is that these three duelers have more than enough skill to deserve a spotlight at an international LAN, but sadly during 2013 they didn't manage to. I hope this will change in 2014.

ZOWIE cooller (?)
Yes, i KNOW this never happened. I thought Dreamhack Winter would be our opportunity to understand what kind of partnership is the one between ZOWIE and cooller. The fact that cooller in the end didn't attend Dreamhack doesn't say anything good about it, but who knows, things may change. Zowie has supported quake a lot during 2013 and quakers showed much love for zowie by buying and reccomending their mice and other products. Who knows, maybe Zowie will realize that seeing Cooller on Quakecon's podium with a ZOWIE clantag would make their brand the most loved by Quake players.
Zowie statement:
http://www.zowiegear.com/index.php?i=news&p=51

4sg Fraze
I put Fraze in there becouse he's an example of a crowdfounded sponsorship. It hasn't got much to do with the pro scene, but i think it could be a good example to follow for quakecon. The lack of european players really bothered me last quakecon, if the situation next quakecon is the same i think we could discuss the possibility of paying the trip for 1 or 2 top duelers that post on ESR.
Send Fraze to Dreamhack:
http://www.4seasonsgaming.com/forums/viewtopi...amp;t=5154

bvd Detrony
From what i understand, Bravado is pretty big in South Africa, and Detrony has been playing for them for quite some time, competing QL and CS:GO. They also seem to be interested in Quake Live since they recently got 2 more players to get a full tdm lineup (maybe they plan to take take part to next prague lan?). That being said, I couldn't find much information about Detrony's contract, it is even possible that he didn't get is trip to DHW paid, since this Bravado guys are obviously more interested in the South African scene. We can't really rule any possibility out here, but if the guy decided to go from SA to Jönköping he might also decide to go from SA to Dallas. Let's hope for the best.
By the way, [NdC] (ph4ntom's clantag) seems to be a simple clan and not related to a sponsor.
Detrony to Dreamhack:
http://bravadogaming.com/news-article/Detrony...uake-LIVE-
Bravado gets a Quake Live TDM team:
http://bravadogaming.com/news-article/Bravado...-Live-side

DRz p0ni
There isn't much to say. P0ni joined Druidz in July 2013 and after hat he didn't attend Quakecon nor Dreamhack. He got his invitation for Dreamhack but he later pulled off because he didn't have the money to attend. Also he hasn't taken part in many online competitions in the past few months. It seems pretty evident that this sponsorship (if you can even call it that) isn't worth much, but I still hope to see Druidz and p0ni step their game up in 2014.
It should also be noted that plazmaistar is also listed as a Druidz player in their page, but he didn't bear their tag at Dreamhack and as far as i know he had to pay for his own trip.
UPDATE:
According to Ins, p0ni thought DRz would sponsor his trip to Dreamhack and when they didn't he stopped playing, so
he should not be considered part of Druidz anymore.
p0ni joins Druidz:
https://www.esreality.com/post/2444838/p0ni-joins-druidz-e-sport/
Druidz Quakelive players:
http://www.druidz.se/profil/c228

colwn stermy, FACEIT stermy
So, here's the thing: stermy doesn't compete anymore in Quake Live, I'm well aware of that. But since he's a stable member of the faceit crew, Stermy attended both quakecon and dreamhack even though he didn't play at dreamhack, an overall understandable decision. Him being with faceit means that if there's a big lan he'll probably be around, and if there's shortage of players he can step in and play. Not at his top shape but hey, it's better than nothing.
UPDATE:

one. plaZma
newspost here
It took me more than it should have to write this post, at least I hope somenone will appreciate my efforts.
If someone spots a mistake or has more accurate information i will be happy to edit it, let me know in the comments.
Also I hope I haven't forgot about any player.
Peace and Love, have a good quake.
edit: forgot k1llsen's flag
Edited by takesix at 15:53 CST, 18 January 2014 - 5454 Hits