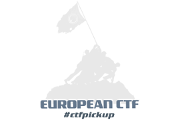 Scheduled: 07:00 CST, 15 December 2013
Schedule:
Passed
Update:
Congratulation to winz, rehepapp, spenzer and fReady winning this Cup! Thanks for everybody helping and participating in this Draft Cup. Stay tuned for more!
#ctfpickup (Quakenet) is hosting a draft on
Sunday, December 15
. Sign-ups begin
Monday, December 9
and will last until
Saturday, December 14
. The first 64 sign-ups will have a guaranteed spot in the draft, with players after the 64th sign-up taking substitute positions.
Admins for the event are Q50, smove, Drayan, paw, winz and tg, and are available on IRC to answer any questions regarding the event.
Links:

#ctfpickup
,
ctfpickup.eu
Edited by smove at 16:09 CST, 15 December 2013 - 19388 Hits