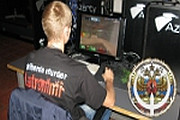 It's been two months since the last Esportsfrance interview and it is now time for more. We thought it would be a good idea to ask some question of none other than

Alexander "
Latrommi
" Dolgov, the rising star of the Russian TDM scene for a year or so now. He has also been victorious two weeks ago of the Prague TDM LAN event with his team 'deliberate murder'.
In this interview, Alexander tells us about his life, his Quake career, which he started as a child, his mouse sensitivity, Prague tournament, opinions on TDM strategy, deliberate murder, and more.
Esportsfrance: The deliberate murder project seems to be one of the most successful thing that happened to QuakeLive in the recent years. Can you tell us how you joined the team and what you think about what they are doing ?

Latrommi: It was a regular Russian #tdmpickup draft, the first one for me. At that time, I had already gain a lot of experience from Russian TDM pickups and my main objective was to beat somebody from 102. Like me, they were also captains, so we just randomly picked up some players and started to play. As far as I remember, there were about 14 teams or so. I dont want to go into details, but during this competition I won mt_CTAPOCTA, 421 and the last match was against pavel_, where I won his team by 1 epic frag (Dreadful Place). All games were streamed by cooke and green, so on the next day they invited me to join the clan...
Read the full interview on
Esportsfrance
. Alexander was kind enough to put his
duel and TDM configs
to our disposal, you will find it at the beginning of the interview. Also, a
bonus picture
at the very end of it...
Links:
Interview
Previous Interviews:

FraZe
,

Sev3n
,

Baksteen
,

dem0n
,

Guismo12
Edited by Badb0y at 20:35 CDT, 3 October 2013 - 25598 Hits