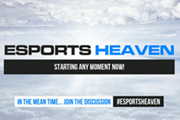 The second episode of the Esports Heaven show, hosted by Cadred's

Richard A. Lewis
, revolved around the question "
Do esports journalists over-evaluate themselves?
".
The first 80 minutes of the broadcast saw

Rod "Slasher" Breslau
, of GameSpot, talking about his career in esports journalism. From 80 minutes onwards

Duncan "Thorin" Shields
, Editor-in-Chief of Team Acer, joined the show, which then became a back-and-forth debate between the two guests on the topic of esports journalism.
Edited by wn at 11:17 CDT, 10 May 2013 - 8200 Hits