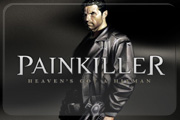 Scheduled: 16:00 CST, 27 November 2011 to 20:00 CST, 27 November 2011
Schedule:
Passed
"Just Play" Painkiller Duel Cup is targeted for North American players, but is open to anyone who is willing to deal with the ping.
I've really enjoyed Painkiller and never got a chance to play in any duel cups or tournaments. I've recently started hosting a couple of servers and I decided to host a PK duel cup. I know the netcode isn't the best, but for those who are still willing to play, then check out the
"Just Play"
cup page on tourney.cc.
There is also a free version of Painkiller (mplay only) if you are interested but do not own the full version of the game, all of which is linked on the cup page.
Update:
Congrats to

Andy
for his impressive win! Andy had 160 ping and still played, was awesome having what is left of the PK community playing. GG to his opponent

Chiefin
.
Links
:
Cup Page
,
Brackets
,
Stream
Edited by xou at 23:39 CST, 27 November 2011 - 17984 Hits