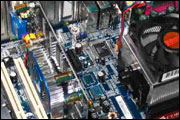 I carried an 8kg dell pc to China and its fucking shit; "HDTV" VD/BBT episodes wont even play (5fps) and streaming is so-so too. need to buy parts for a custom build.
im wondering what kind of spec is capable of SC2?
RAM?
CPU?
GFX?
prices are cheaper in china...e.g. AMD Athlon II X4 631 = 50quid (70quid on ebay). Is this cpu any good?
AMD phenom II X4 970 = 89quid
halp
xoxo
edit: £250-300 budget

For lolz...my current spec:
P4 2GHz
1GB RAM
Intel 82845G gfx
thoughts?
http://zhuhai.ganji.com/diannao/11100601_12725775.htm
phenom X4 955
DDR3 1333 4G RAM
GA-880GM-USB3L mobo
ATI4250 gfx
Mon
Tue
Wed
Thu
Fri
Sat
Sun
1
2
3
4
5
6
7
8
9
10
11
12
13
14
15
16
17
18
19
20
21
22
23
24
25
26
27
28
29
30
Edited by Dird at 04:49 CDT, 10 October 2011 - 7977 Hits