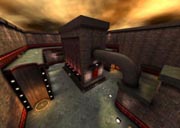 The 5th week of

id software's campaign "6 Maps in 6 Week" brings us yet another ctf map. Here is official release announcement that covers
Courtyard Conundrums
background and information about the next map:
For week 5 we bring you "Courtyard Conundrum," another classic CTF arena from the earliest days of Threewave and our friends "Casey" and "Zoid." Like Bloodlust, Courtyard Conundrum was originally created and released in 2000 as part of a 3-pack of CTF maps for the original QUAKE III Arena. This arena has been a long-time favorite, and is a welcomed addition to the QUAKE LIVE CTF arena rotation. Courtyard Conundrum provides a nice combination of larger open bases and tighter connecting areas, and is most often played with 8-12 players.

We've almost reached the end of this 6 map run, but stay tuned next week as we debut a totally new map for Clan Arena.
Source: Official News -
Threewave
Edited by xou at 17:36 CDT, 14 June 2009 - 30562 Hits