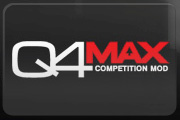 Picmip included to new q4max?
i mean you set picmip with image_ etc
but it would be nice if you could put it thru gui like picmip 0 till 3 (not like winz cfg ye!) would be fair enough i see no reason why it shouldnt be allowed?
share your thought here!
ps i allready know alot people use it, and would appreciate it
Mon
Tue
Wed
Thu
Fri
Sat
Sun
1
2
3
4
5
6
7
8
9
10
11
12
13
14
15
16
17
18
19
20
21
22
23
24
25
26
27
28
29
30
31
Edited by draven- at 16:10 CDT, 7 August 2006 - 13176 Hits