Enemy Territory: Quake Wars
game by id Software's

Kevin Cloud
and Splash Damage's

Paul "Loki" Wedgewood
.
Kevin and Paul discuss many topics related to ET: QuakeWars including the game's many classes, the unique pla
yer physics, megatexture technology, and the different gameplay st
yles the game possesses. While many videos of QuakeWars gameplay footage have been made available in the past, this video gives you an in-depth view of the game by the people who made it. The video runs 38 minutes.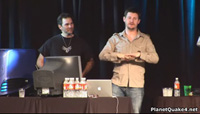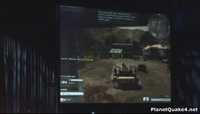 Movie File - Streaming Flash () 0MB
Movie File - Downloadable File (quakecon_06_a_look_inside_quake_wars.zip) 284MB
Edited by Nicky at 03:42 CDT, 21 July 2007 - 48816 Hits