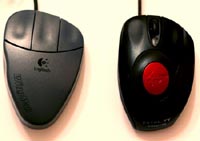 Those of you interested in the recently unveiled Fatal1ty 1010 mouse by Creative should find the review by

D|S-
mahmood
a very curious read. His article covers everything you need to know about this mouse from the perspective of a die-hard FPS game fan. Here is an extract of the article:
The mouse itself looks like an optical version of the Logitech Wingman Gaming Mouse. Of course, the 1010 has a wheel and some extra buttons, but the general idea is this: Creative has, in effect, resurrected the most celebrated gaming mouse ever. Many hardcore FPS gamers swore by their old Wingman mice, that is, before they broke because all ball mice have so many moving parts. Fatal1ty himself has gone on the record saying that the Wingman was his favorite mouse, and that he didn't really enjoy the hand-filling shapes of later generation mice.
The mouse received a 6/10 score.
Click here
to find out why.
Edited by Carmac at 01:52 GMT, 24th Jan 2006 - 32219 Hits