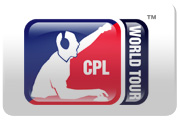 The first information regarding the locations of the 2nd season of the CPL's World Tour has been released. There are 6 stops taking place on 4 different continents, the first (which has yet to be announced) taking place in May.
May - pending
June - Sweden
July - USA
August - Brazil
September - China
October - Italy
November - USA FINALS
"The CPL will announce the World Tour schedule, venues, prizes and sponsors after its World Tour Summit meeting to take place in mid-February in Venice, Italy. "
Source:
The CPL
Edited by Sujoy at 10:52 GMT, 23rd Jan 2006 - 58315 Hits