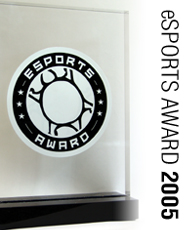 The Oscar of eSports is back after last year's successful award ceremony, turtle entertainment will again be hosting this years
eSports awards
, to find out who, over the last 12 months has earned the right to be crowned as champions in his or hers respective categories.
The ceremony will take place at the Games Convention in

Leipzig, Germany on the 20th of August, below is the official press release, including the award categories.
For those who can't remember last year's event, it was held in the same incredible arena with the major winners coming from SK.se (Potti, Madfrog) but also Burnie who took best newcomer, with EYEBALLERS picking up team of the year.
This year's nominees will be announced over the next coming weeks.
Edited by acid-mea at 06:05 GMT, 27th Jul 2005 - 18603 Hits