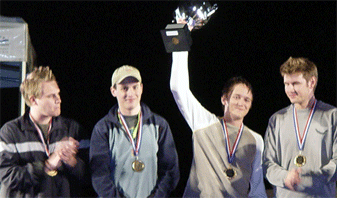 While the man of the moment is czm, let us get back one month in time and give four players the attention they deserved as well. During the ESWC Sweden came up with an extremely strong lineup consisting of
fox
,
fazz
,
fooKi
and
Z4muZ
. This lineup was one of the actors in one of the most unforgettable finals Q3 has ever had, a victorious moment for Sweden. Such a feat calls for an interview and there you have it – four of the following pages contain interviews with each of the players. Let fooKi's little quote serve as a teaser:
I was soooo nervous because if I lost we would probably be out of the tourney. I couldn't sit down, couldn't breath. But when I started to play I was very confident and played my regular game and won 24-2 or something.
Read on and find out why fox wears his head headphones reversed left to right and who was the lucky charm for Sweden.
Edited by Carmac at 16:39 GMT, 15th Aug 2004 - 54095 Hits