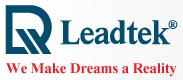 It was at the CeBIT 2004 when
Leadtek
demonstrated its HMD (Head Mounted Display) called "
X-eye
" for the first time in Europe. The special feature of this HMD is the use of the future-proof
OLED
(Organic Light Emitting Diode) technology that produces much clearer and sharper images than liquid crystal displays. X-eye is going to be available in two versions: monocular and binocular, with the displays capable of displaying at SVGA (800x600).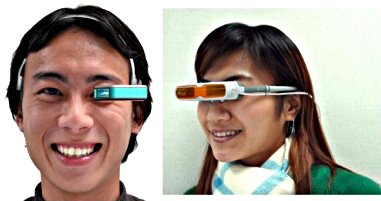 X-eye - Monocular and Binocular
Aside from movie fans Leadtek mainly wants to address gamers. According to the company, playing with these glasses has the advantage of a spacially larger field of view which gives the player the feeling of "being amid the game". This is also the reason why gamers which nowadays prefer resolutions of up to 1600x1200 shouldn't be put off by the SVGA resolution. The effect is similar to a 15" display or a 50cm television.
When using it as a second virtual display for a notebook or PC it's practical feature that you can't be distracted by other things and that nobody else is able to read along - or watch some dirty pics you're looking at ;-)
X-eye - OLED-display from observer view
X-eye offers a luminance of up to 150 Cd/m2 and a contrast ratio of over 100:1 at a dark ambient. Thanks to the OLED-displays the X-eye will have a power consumption of around 0.5 watt only (monocular: 150 to 500 mW, binocular: 250 to 850 mW) and therefore be able to be energized over USB. In other words: the data cable you plug into your computer is enough.
The monocular version was planned to be on the market in May for around 500€, the binocular model should arrive in September. So far I haven't found any shop offering this product, perhaps there's a delay in the production. Hard to say, after all there hasn't been any news about this hardware since March..
Edited by BooTes at 23:26 GMT, 27th Jan 2005 - 5839 Hits