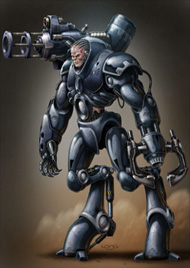 According to a
recent article
from CNN Money's Chris Morris id Software's CEO Todd Hollenshead told him there are no plans to show off Quake IV at
QuakeCon 2004
. Hollenshead went on to say "When we show the game, we want it to be something that's really impressive for the people who have been waiting for it."
As many might remember, id Software wowed QuakeCon 2002 attendees with a Doom3 movie and now almost two years later the game is in the final stages of development. Quake IV was announced to the public during QuakeCon 2001. One would think
Raven
, Quake IV's developer should have something cool to show the public. People would go crazy over the slightest screenshot or few seconds of gameplay. We'll have to accept id's decision not to show any Quake IV media as the right one. After all, id hasn't let us down before. We can wait longer, can't we?
"The disappointment of not seeing the game could bring out the ugly side of the hardcore crowd, though. Hollenshead said it comes with the territory."
Edited by RogeR1 at 04:53 GMT, 5th Jun 2004 - 18727 Hits