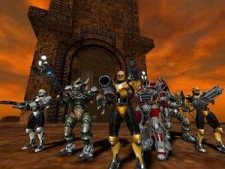 In an attempt to promote the released of Tribes: Vengeance, the biggest company in the world, Vivendi, has decided to release the original Tribes as well as the sequal as a free download. Unfortunately they decided to team up with Fileplanet as the distributor, a website infamous for its hefty queuing system when it comes to downloading files.
If you have the patience to wait in line or happen to have an account on fileplanet, then go right on and download the marvelous
Starsiege: Tribes
and
Tribes II
.
UPDATE
The Swedish gaming site Fragzone has setup two fast mirrors of the games. So now there is no excuse,
Starsiege: Tribes
and
Tribes II
. Keep in mind that you will still have to register at Fileplanet if you intend to play online.
Edited by Paladia at 10:56 GMT, 5th May 2004 - 19205 Hits