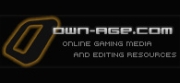 Sean and the admins have found a way to save
own-age.com
. Sean has found a host and will slim down the code for better stability. Funding has been taken care of: at the moment, at least another two years of up-time is guaranteed.
Looks like the website won't be closing for good after all. I will be spending the next couple days getting this site back in order. Please be patient as I get this site up and running on the new host.

Thanks for all for the support the past 2 weeks.
A lot of data still has to be transferred to the new host, so most links don't work yet, but pretty soon the site will be back in full running order. This site will remain a "portal" to centralize movie links, the forum will be intact, and all the movie tutorials will still be there.
Related Links:
own-age.com goes offline
Edited by xou at 05:36 CDT, 15 October 2009 - 6519 Hits