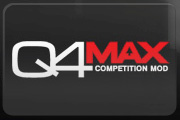 We are pleased to announce the release of Q4Max 0.80. In addition to the usual assortment of fixes and optimisations you've come to expect, this release brings a number of major changes.
SuperHud
: This new system allows you to easily to create custom HUD layouts, and gives a significant boost to framerate - typically increasing FPS by 25%. Anyone who has edited a CPMA SuperHud will be largely familiar with the syntax, although there are a few differences, so take a look at the examples and
documentation
.
Multiplayer Bots
: Our Artificially Intelligent friends have reached the point where we are happy to list them as a feature. In addition to basic navigation skills, they understand some complex concepts like timing armors and dodging their opponent's fire. There are always ways bots can be improved, but hopefully you'll enjoy them at this point.
Menu Restructure
: The menus have been significantly restructured ; most importantly, the entire settings menu is accessible in-game.
For full details, see the
Changelog
.
Download
- Fragstore, via the links on
www.q4max.com.
-
Czech Quake Mirror
-
Spontan Games
-
lowje
-
ffs.dk
-
quaket.net
-
Team Infinity
-
QuakeUnity
If you want to play with bots, you need to download the AAS files. You can download these from:
[*]
Fragstore via the link at q4max.com
[*]
Czech Quake Mirror
[*]
quaket.net
Edited by RogeR1 at 00:01 CST, 3 December 2007 - 16139 Hits