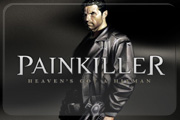 Epic Games
announced
that they have acquired the Polish PainKiller developer
People Can Fly
. PCF recently has been collaborating with Epic on the PC version of Gears of War. The two companies are working on a new product which Epic will be previewing in private at Games Convention in Leipzig, Germany this week.
PCF has showed Epic some prototypes earlier and Epic said:
"PCF showed us their early prototypes within only a few weeks and we were totally blown away."
You can read more about it on
WorthPlaying.com
Edited by Nicky at 09:51 CDT, 22 August 2007 - 7777 Hits