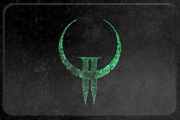 The American Quake2 scene might not be the biggest one, but now there are two upcoming leagues just around the corner. One is starting in just one week and will spark some life into the Q2 duelling, which should be nice to see in the wake of

DaHanG's performance in Q2 at QuakeCon 2007. The other league aims to kick some life into the North American 4v4 scene once again, hopefully with some help from the foreigners!
Sign-ups ::
The league is open for everyone, as long as you are prepared to play on North American servers of course, as this tourney will be ran there. We allow any client that is compatible with
R1CH's anticheat
. The signups end August 15th. Be sure to check out
the rules
before putting your name on the list.
Feedback ::
Comment on this newspost or on the
existing newspost
on the
NADML-site
.
How to download and set up Q2 + anticheat ::

Dimmo wrote an excellent
guide on how to download and set-up Q2 with anticehat
. This should make it possible for anyone to play Q2 with only the demo + latest patch, with the newest anticheat made by

R1CH.
Hope this will keep Q2 going strong as we close in on its 10 years anniversary!
Edited by Nicky at 00:16 CDT, 14 August 2007 - 3989 Hits