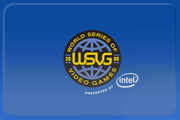 The World Series of Video Games Louisville show that was aired in the US on CBS last Sunday has been ripped and uploaded in full thanks to Fight Night player Skyllus. To watch the show you just need the DivX web player and to head on over to
stage6
.
It appears the video has been removed.
The hour long show features action from the Guitar Hero 2, Fight Night and World of Warcraft tournaments at the Louisville event in June. Highlights include Guitar Heroine


Kelly "Tipper Queen" Law-Yone and


James "2GD" Harding.
And no, there is no Quake 4 featured due to the game's rating and time slot the show was put in.
Source:

Gameriot
Edited by therogue at 11:55 CDT, 1 August 2007 - 3219 Hits