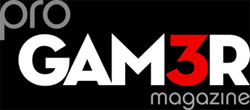 Pro Gam3r
is a new magazine targeted towards the competitive gaming scene to be released as a
QuakeCon
collector's Item.
On August the 2nd at QuakeCon in Dallas the Pro Gam3r magazine will be released. It will be given as a collectors item to all those who will be attending QuakeCon.
"The magazine is very important to us because we feel that professional gaming is in a stage comparable to the early days of professional surfing and skateboarding. eSports is the next "extreme sports" movement. Skateboarding had magazines focusing on visuals and through those publications they made their athletes stars. We're doing the same thing," said Ted Hover, Chief Executive Officer, MyGameRoom.
Many people have been wondering about the magazine availability in Europe and right after QuakeCon we will try and work something out so please be patient.
QuakeCon
Pro Gam3r Magazine
My Game Room
Edited by Nicky at 03:25 CDT, 1 August 2007 - 5769 Hits