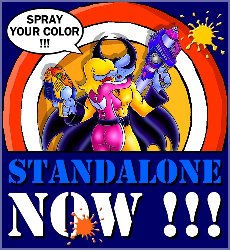 A cool comic fun shooter, in liliput style, that including 12 maps with secrets rooms, along with nine crazy weapons, colourful player models and new game types.
Furthermore, everything is musically accompanied by the bands dieselkopf and Green Sun.
The "
World of Padman
" is a multiplayer game, in which you can fight your opponent online or have some fun at home playing with some friends and bots. A single player part doesn't exist yet.
The game is available for download in 3 different versions, namely for Windows-users, for Linux-users and for Mac-users.
WoP was formally a big quake3 modification and is now a totally standalone game.
Now, go have a lot of fun with in the "
World of Padman
". Let the killerducks out!
Edited by ESR|Nicky at 03:52 CDT, 3 April 2007 - 11057 Hits