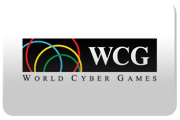 Scheduled: 13:00 CDT, 4 October 2007 to 23:00 CDT, 7 October 2007
Schedule:
Passed
The games for the World Cyber Games 2007 taking place in

Seattle from October 4 till 7 have been
announced
(again).
The PC Games will be:
RTS (Real-Time Strategy)

WarCraft III : The Frozen Throne (1v1)
StarCraft : Brood War (1v1)
Command & Conquer 3 Tiberium Wars (1v1)
Age of Empires III: The WarChiefs (1v1)
FPS (First Person Shooter)

Half-Life : Counter-Strike (5v5)
Sports

FIFA Soccer 2007 (1v1)
Racing
Need for Speed Carbon (1v1)
And the

console games will be:
Gears of War (4v4)
Dead or Alive 4 (1v1)
Project Gotham Racing 3 (1v1)
To clear up some earlier confusion, the original list posted was a mistake by WCG. The only difference with this one is that "Tony Hawk's Project 8 (1v1)" for the xbox 360 is not included.
Edited by Sujoy at 04:03 CDT, 14 March 2007 - 37967 Hits