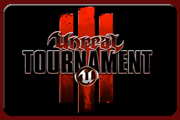 After the
announcement today
that Unreal Tournament 2007 would now be known as

Unreal Tournament 3
. A new trailer has now been released by IGN. This is more of a promotional video, showing more eye candy and story line than gameplay, however it does show Unreal Tournament 3 with its new name.
UPDATE
:
Over at
beyondunreal.com
information is starting to be released about the playable demo which was available for the media:
"You've seen the movies; you've heard the blurbs - basically it's all true: there are tons of nods back to the original Unreal Tournament. Dodging is very much like UT, the characters are large like UT, Death and feigning death are reminiscent to UT, and the weapons are loud and dangerous like UT. The answer to the question of the century: yes, the Shock Rifle primary and secondary fires at a rate much more similar to that of UT. And, of course, the game looks very good."
More information will be released over the course of the day.
Video At:
IGN
HD Version:
Download
Updated
Screenshots
Edited by RubberChicken at 07:54 CST, 26 January 2007 - 40315 Hits