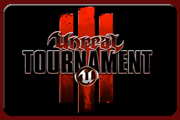 According to
CVG
,
Midway
will rename UT2007 to

Unreal Tournament III
, even though the upcoming shooter is the fourth game in the series.
"CVG has learnt that Midway and developer Epic will be announcing a slightly confusing name change for the hotly-anticipated Unreal shooter soon, possibly later today. We believe that the name change is to coincide with the game using the latest Unreal engine, cleverly dubbed Unreal Engine III."
Midway is currently holding a Gamers' Day press event in the US.
Edited by ESR|Nicky at 04:46 CST, 26 January 2007 - 15973 Hits