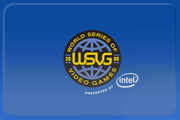 Scheduled: 03:00 CST, 8 January 2007 to 13:00 CST, 11 January 2007
Schedule:
Passed
The
World Series of Video Games presented by Intel (WSVG)
, the first international video game competition circuit for multiple game platforms, today announced it has signed a deal with CEVO to present online qualifiers for the All-Star Festival held at the International Consumer Electronics Show on January 8-11.
The winner of each online tournament will win an all-expense paid trip to Las Vegas during the Consumer Electronic Show to go up against the reigning champions of the World Series of Video Games,
Toxic (Quake 4)
and
Alternate Attax (CounterStrike 1.6)
, crowned in New York last weekend.
The tournament will be held from Dec 26th-29th. and coverage of the online tournament will be provided on-line by The Team Sportscast Network (TSN).
"Our on-line qualifiers and All-Star festival at CES is a fantastic showcase for pro-gaming" said Matt Ringel, President. "We're excited to be promoting this new sport at the largest consumer electronics event in the world and to bring the excitement of video game competitions to a wider audience."
Official WSVG Announcement
Coverage by the Team Sportscast Network LLC.
Edited by Levi240 at 00:44 CST, 28 December 2006 - 20846 Hits