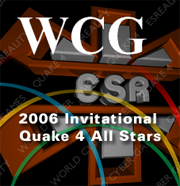 Voting has begun: Choose your WCG2006 Quake4 All Stars
The
World Cyber Games
has a reputation of being the most sensational global tournament for competitive gaming, featuring players from 70 countries and 6 different continents. This year's event will finally see the return of Quake to the WCG stage, having been missing for three years previously. Quake is the game that began the eSports revolution in the Western world, and is considered to be the ultimate platform for pure deathmatch competition. For the 2006 finals in Italy, The World Cyber Games will feature a Quake 4 tournament entitled 'WCG 2006 Invitational -Quake4 All Stars-'.
ESReality
has been working closely with WCG to organise this tournament and the selection process for the invitations. Our staff has selected 20 of the best players from around the world to be included in a public vote on this website. The vote begins at 18:00 CDT, 28 August 2006 and will end at 18:00 CDT, 3 September 2006. As the ballots close, the top 8 players selected by public voting will be invited to Monza, Italy to take part in the WCG Quake4 All Stars. If a selected player is unavailable to attend WCG, the next most popular choice will be invited in their place. The players invited to WCG will have their plane or train tickets to the finals paid for. They will also receive meals and accommodation during the Grand Final period.
The 20 players selected for the public vote are (listed in order of rank):
1. Johan "Toxic" Quick
2. Anton "Cooller" Singov
3. Alexander "Ztrider" Ingarv
4. Alexey "Cypher" Yanushevksy
5. Maciek "av3k" Krzykowski
6. Alessandro "Stermy" Avallone
7. Jason "Socrates_" Sylka
8. Ivo "Forever" Lindhout
9. James "TooGoood" Harding
10. Magnus "Fox" Olsson
11. Michael "Winz" Bignet
12. Johnathan "Fatal1ty" Wendel
13. Rafik "LoSt_CaUsE" Bryant
14. Sabian "Clamp-Ok" Hayblum
15. Henrik "Blue" Björk
16. Gareth "GaRpY" Marshall
17. Marcel "k1ller" Paul
18. Mark "cl0ck" McGrail
19. Fan "Jibo" Zhibo
20. Stephen "Ph4ntom" Cloete
The 8 players chosen by you will be seeded based on this ranking and not on the vote results.
The Quake 4 1v1 tournament will take place on 19 ~ 20 October 2006. The 8 players will be split into two groups based on their seeding. The top two finishers in the group stages will then proceed to a Double Elimination bracket. All matches will be best-of-three with each player selecting one map each. The deciding map, if required, will be chosen by the player with highest frag count over the two previous games or a coin toss if frags are tied. Maps to be played are Galang, Monsoon, Placebo and Phrantic. The latest version of Quake 4 and q4max will be used with only GUI config changes allowed.
Prizes for the Quake 4 All Stars 1v1 tournament are as follows:
1st place: $5,000
2nd place: $2,500
3rd place: $1,000
Following the 1v1 tournament, there will also be a 2v2 tournament on 21 ~ 22 October 2006 where players are matched up based on their 1v1 results. The 1st place winner will join 8th place to create the first team. The other teams will be: 2nd & 7th, 3rd & 6th, 4th & 5th. Prizes for the Quake 4 All Stars 2v2 tournament are as follows:
1st place: $1,000
2nd place: $500
ESReality
is very proud to be involved with the World Cyber Games 2006 Grand Final and to help manage the Quake 4 All Stars tournament.

Maarten "
Black2lip
" Dubelaar and

Ben "
dallow
" Dalloway will be travelling to the event in Italy to represent
ESReality
and act as referees and ensure the competition runs smoothly. We will endevour to provide detailed coverage and upload demos as quickly as possible throughout the finals so you can watch all the action as it unfolds.
Place your votes on the
dedicated questionnaire
.

Paul "
Redeye
" Chaloner has prepared
detailed player profiles
for all 20 candidates. Read about the players before making your choices. Only registered users may take part in this vote, however
Registration
is free and easy.
IRC Channel: #wcg.q4
Edited by Sujoy at 02:27 CDT, 30 August 2006 - 65496 Hits