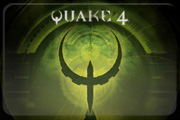 The old-school Quake legend

Henrik "
Blue
" Bjork, who just recently resigned from the EuroCup due to lack of time, has signed a new deal with the British organization

alltherage
.
Blue
has left the following statement on
alltherage
's official website:
I want to thank AllTheRage for helping me fulfill my wish get back into gaming for real. I´m very excited about things to come and confident we will have a great time."
alltherage
management James has also left the following message:
Weve been looking for a long time for a european player to complete our squad for the upcoming Quake 4 tournaments and we see Henrik as the ideal solution. Im delighted to welcome someone of Henrik's caliber and successful past to the team and his first event in atr colours will be WSVG dreamhack.
The alltherage.Q4 roster is now as follows:

alltherage/GaRpY

alltherage/Jabb0r

alltherage/wombat

alltherage/blue
28482 Hits