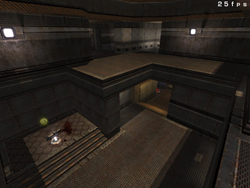 This is the 1.2 release of everyone's favorite (most hated) large q4 1v1 map.
There are 2 major changes with this release.
First, the maps addon.conf and def files are now correct. This means that a) the map will no longer crash servers (yay!) b) auto-download works (yay!) c) the map will not show up twice in the menu system (yay!).
Second, the floor above the RL has been reduced. This change is aimed at making the upper floor less campable.
The item layout remains the same from previous versions.
XFTOURNEY1A.PK4 IS OUT OF DATE. IT IS FUNDAMENTAL THAT ANY SERVER CURRENTLY HOSTING FOOL'S RUN UPGRADES TO THIS VERSION, AS SHOULD ANY TOURNAMENT USING FOOL'S RUN.
Screenshots
Screenshot 1
Screenshot 2
Screenshot 3
Fool's Run Remix Download Links
PlanetQuake4.net Map center
Levitation
CPL Mappack: Includes Fool's Run Remix, Monsoon, Galang, A Man Called Sun and Placebo Effect.
Edited by xfoo at 02:50 GMT, 23rd May 2006 - 19799 Hits