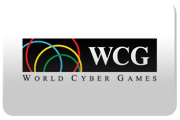 WCG as in World Cyber Games, Microsoft as in M$, have teamed up through 2008. M$ providing hardware, marketing, and alt-ctrl-del certified tech support for the events. The games for the prestigious World Cyber Games of 2006 are Counter-Strike, Warcraft 3: The Frozen Throne, FIFA 2006, Need for Speed " Most Wanted", StarCraft: Brood War, Warhammer 40,000: Winter Assault, Dead or Alive 4 and Project Gotham Racing 2.
Microsoft's sponsorship will encompass all WCG events including three pan-regional championships, the Korean Championship, the USA Championship and the Grand Finals in Monza, Italy (October 18-22). International Cyber Marketing, Inc. (ICM) has designated Microsoft as the premier sponsor of the WCG.

Under the terms of the alliance, Microsoft Windows and Xbox 360 will be the exclusive gaming platforms for the PC and console. Microsoft will provide games, consoles, Xbox Live online game service, and peripheral equipment for all WCG events. Microsoft will also supply players with state-of-the-art consoles at WCG events.
And if the fact that Quake 4 isn't being played at WCG 06 doesn't make you want to commit seppuku just yet, download
the WCG theme song (Beyond the Game)
Full Press Release
Edited by Zerter at 08:39 GMT, 14th Apr 2006 - 18229 Hits