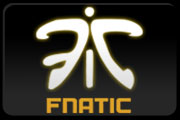 Earlier on in the week
it was rumoured
that

James "
TooGoood
" Harding, the current undisputed top British Quake 4 dueller, had switched to Fnatic from Diginitas after his tag on the Summer CPL signup list changed. Today it was confirmed that he has in fact joined Fnatic, at the same time

SteLam
and

zyz
have left citing they don't enjoy competitive Quake 4.
The current Fnatic Quake 4 line-up:

Vo0

Ztrider

Purri

neok

TooGoood
As a result of TooGoood's move ClubFnatic has
interviewed him
on his past, present and future.
"Yeah, but I'm really close with my old team mates still. I mean I will miss playing with them because we had a lot of fun but they understood why I moved teams and everyone have said they're happy for me, which just reinforced they're really good friends!"
Edited by Levi240 at 22:21 GMT, 9th Apr 2006 - 23146 Hits