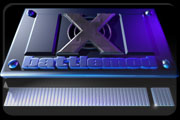 After the
X-Battle Team
had already released a public beta version (0.21) for the latest Q4 1.1 patch, they have just today recently released the final version of the patch, being called
XBM 0.22
because it features some additional stuff the beta didn't offer.
This patch is designed to work with the FINAL Q4 1.1 patch and offers full compatability with this version of the game. The release news of the XBM team can be seen
here at their site
.
The
config-generator
to update and create your client- and serverconfigs has also been updated and can be reached for everyone who needs it
here
.
You can find out more about the XBM mod and its features at the
XBM-wiki
. If you want to provide feedback to the team, you can do so on IRC in #battlemod (QuakeNet).
Download Links:
inQuake.de FileBase
Levitation
Edited by Levi240 at 12:41 GMT, 3rd Apr 2006 - 28733 Hits