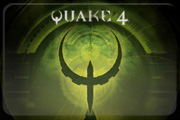 *UPDATE*
According to a
posting
on the Quake3World.com message boards, the following message was left by an id employee:
Please take down your mirror for the Quake 4 1.1 beta and/or final. There is a problem with the widescreen functionality that may harm a user's monitor. We are working on a re-release and will make it available as soon as possible. Please advise your viewers that may be using the current 1.1 beta and/or final to NOT enable widescreen or disable widescreen if they are currently using it.
The download links and mirrors will stay, but be advised of the current situation. Links will switch to the updated version once this is fixed.
www.idsoftware.com
along with the amazing response and help from their new employee
SyncError
, have finally released the official Quake 4 1.1 Final Patch. Within this patch comes countless and countless bug fixes, forcemodels, brightskins, 4 new maps, increased performance, and much more.
Download links/Mirrors: (Official idSoftware link is down)
Torrent links:
http://zerowing.idsoftware.com:6969/
A complete list of new features, changes, and fixes can be seen at the
ReadMe
file. A stickied forum thread has been created at
this location
for all 1.1 final patch bugs ONLY. Do not leave gameplay suggestions in this thread.
Help Guides:
The Auto-download "How To"
The Addon Pak "How To"
PlanetQuake4.net PR 1.1 Overview
Edited by Slasher at 09:11 GMT, 29th Mar 2006 - 40450 Hits