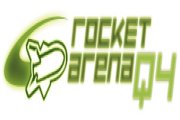 The time has come! After a long wait, the first version of Rocket Arena for Quake 4 has been released! This beta release is
NOT
compatible with the recently released Quake4 1.1 Beta Patch. What's included in this first release:
-Classic Rocket Arena and Clan Arena gameplay
-Support for multi-arena maps
-Enhanced menus with arena selection, team selection, arena voting and new settings menu.
-Force your enemies and teammates models to make them easier to spot.
-Set highly visible custom colors for both team and enemy models.
-Make custom scoreboards and HUDs to completely customize your gaming experience.
-Modified script interpreter for server settings scripts, and map settings.
-Performance tweaks, including the ability to turn off rocket and grenade trails and a new lighting mode.
-2 Custom beta maps, plus support for all standard Q4 DM and CTF maps
Download Mirrors: (24MB)
Official Torrent
Gods.eu.com
PlanetQuake4.net
Fileplanet
Levitation
Helpfull Links:
Bug Reporting
Quick Server Guide
Command List
.
CVars List
.
Map Specifications
Edited by Levi240 at 04:54 GMT, 25th Feb 2006 - 21668 Hits