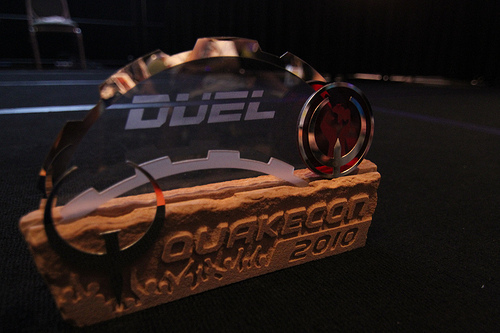 written by: gnnr
Alright Folks,
Pre-Con set up and Experience
So there were ups and downs at QuakeCon as there are with any event. Iím not going to get into that topic much. Rather Iím going to talk about one of the positives of QuakeCon and how despite anything that happens the veteran players and tourney staff make it a fun atmosphere. So without any further backstory hereís a look at what I was honored to see and partake in backstage and throughout the tournament.
I arrived Wednesday. I had a lay over in Vegas where I had some lovely scrambled eggs. Pro-tip, donít eat in Vegas :) I got in to the convention center around 3:30pm on Wednesday. The day seemed to go smooth, exhibitors like Razer, Nvidia, Bethesda Software were setting up. Occasionally saw SyncError and some id suits roaming the floor. The two Mustang Shelby 500′s sat right in front of our booth. While I worked I was consistently reminded I drive a car from 1989, which to be honest I love.
NOC (Network Operations Center) staff came by the booth around 10 times to check the MAC Address on every single machine. The staff decided to manually enter every single hardware address into the routing tables.. Our allocated bandwidth was fixed 6mb/s. We set 5mb/s for the streaming and studio machines. The rest of our work computers had 1mb/s.
Thatís about all I will say about our booth and the pre-setup. Thereís an article about the exhibitors and the feel of the convention center. The rest of this article is about the pro tourney area.
1101 Hits