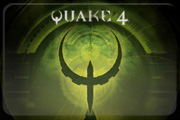 Hi!
It's time to revival q4!
Q4 duel revival cup will start 9 may or 16 may, depends if we're 8 or not.
Sign up are open to 8 players.
You have to create an account on tourney.cc and sign-ups here :
http://q4rebornleague.tourney.cc/sign-ups/
Scheduling :
Cup will be play in one week :
First round : monday to wednesday
Second round : thrusday to saturday
FINAL : Sunday
Rules :
- quake4 1.4.2
- mod : q4max 0.82 + vote mod duel125 on the server
- schedule with your opponents or at least admin will decide
- maps : phrantic, monson, placebo, torment, ravage
- Timelimit : 10 min
- BEST of 2 maps, each player choose a map and if score is 1-1, each player remove one map
VOD:
If i have enough time, i will stream on twitch.
One word about servers, i add 6 servers with mods and map #q4reborn. Servers are locate to NL.
If you have lag or problem with the server, send me a mail to
q4reborn@gmail.com
.
Hope we will be 8!
Enjoy :)
ps : if you have problem to reinstall q4, you can ask me or ask on esr forum
13 Hits