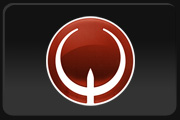 After we recognized, that the amount of Quakelive Team Online Tourney's is going less and less and less, we decided to start a new Quakelive Competition Project.
We will start the project with a NationsCup and we are proud to announce that the admin staff is built of known admins of the community.
There will be following NationCups atm:
Team Deathmatch (admin:

doz3r)
Capture The Flag (admin:

spenzer)
ClanAreana (admin:

brajente)
Following NationCups are pending, due we have no admin at the moment for it:
Instagib Capture The Flag
Instagib Freeze Tag
Freeze Tag
Instagib Team Deathmatch
The Nationscup will be hosted by
basearena.org
.
Signups will start on December, 15th 2013. The people who want to be captain of their nation, have to register on the website (like all players) and write a short mail to
brajente@4quake.com
for what mod and what nation they want to apply as captain.
Rules will be published with the starting of the sign-up period. Though we are looking for streamer; to join up our streamer team contact spenzer @ irc.
All team captains, admins and streamer have to be at our official irc chan and be registered on the website. Even everyone has to add his quakelive name to his profile/profile auth.
Links:
basearena.org
//

#basearena
4 Hits