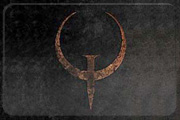 The latest in a series of huge 1-map tournaments (all run by ESR's very own !phil),
Aerowalkage
has reached the final stage. 96 players have been whittled down to 2 in a gruelling double-elimination tournament that has seen many upsets.
Not many were surprised that quakeworld's most successful duellist, Reppie

, ploughed straight through the winner's bracket to reach the grand final.
His opponent in this, Kingpin

, was considered a relative underdog, but has shown he is more than up to the challenge by eliminating Locktar

, Fifi

and Bulat

from the tournament so far.
Grand Final:
Reppie

vs Kingpin

21:00 CET, Sunday 26th April 2009.
Demo + Commentary Pack
Edited by Stev at 21:13 CDT, 26 April 2009 - 8310 Hits