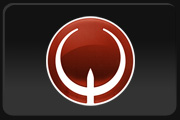 Scheduled: 16:00 CDT, 10 June 2012 to 19:00 CDT, 10 June 2012
Schedule:
Passed
Hello I am

klaovhwN
, and since my Internet is jacked at the moment I decided to run a small Duel tournament in NA, and possibly more if this goes alright. Also big thanks to

CSN|steve
for hooking me up with the admin rights to run this on the CSN site.
So we have some pretty good names coming into STFU AND DUEL some you may not know some you might but here are the notable names:
Chord, Clast, Harley_QUINN, mavLP, undertaker12, nuttybro, spucrl, stWolf, 1057(Lost-Cause), walter
and
wonko
himself. I'm sure there is a few names in there I didn't mention but these are notably people that seem to have done well in the past, Clast for instance was a really good q3 dueler so glad to see him back, we'll see how he does with the new maps.
Registration:
Now - 15:00 CDT, 10 June 2012
Check in:
15:00 CDT, 10 June 2012 - 15:45 CDT, 10 June 2012
Matches start:
16:00 CDT, 10 June 2012
I'm going to manually be checking everyone's Elo who signs up and base everyone's seeds on that
after
check-in and see how that turns out... so get playing, stop losing. Also forgot to mention

rapha
has already left for Dreamhack so more the reason to play :D (I love you Shane. and GL at DH.)
Sorry to wonko, i screwed up his ELO =(
Stream:
http://www.twitch.tv/wills0r
Bracket:
http://cyber-sports.net/brackets/25004
Links:
Event Page + Registration
VODs
VOD Part 1
,
VOD Part 2
,
VOD Part 3
Edited by klaovhwN at 19:53 CDT, 11 June 2012 - 11523 Hits