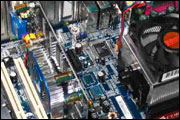 Hi guys,
I want to a buy a new mouse and wanted some advice about both of these mice to understand which will suite me better.
First of all the reason I even consider these 2 mice is because I need a pretty cheap mouse for gaming (Quake Live) once in a while at my gf's place and both seem like a good bang for the buck without any major sensor problems.
Currently I'm using Zowie EC1 White - pros: amazing shape, sensor (the prediction is ok since I come from MX500), build quality
cons: a bit heavy & mouse feet have too much friction (ordered new skates)
The Intellimouse 3.0 (the grey one - I think 2nd generation) seems like the obvious choice, but my main concern is the cable - is it like the mouse cord of the WMO?
The Logitech G1 has a smaller shape which I'm not used to so my concern here is getting used to the shape (I'm used to having a firm palm grip) but on the other hand the build quality seems better and its lighter by 20~ grams (which is a big plus for Quake).
All comments are welcome, thanks!
6340 Hits