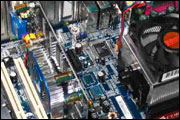 New MOBO, new CPU, new RAM, and new fan for the CPU.
For audio, video editing and gaming. Got a 7850 and a nice Enermax 720W PSU with a R4 case so im set with these, just need to get these 4. My 2 gigs of ram are making me insane, but my current mobo got DDR2 RAM so it's kind of a waste of money to invest in DDR2 when I could save that money for "the upgrade".
I want the CPU to be as silent as possible. Im looking at these huge Noctua products and they look great.
Drop some suggestions.
1477 Hits