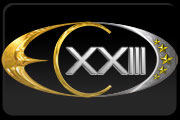 Scheduled: 14:00 CDT, 8 May 2011 to 15:30 CDT, 8 May 2011
Schedule:
Passed
Here we are in a fourth week with a lot of games ahead of us. Group B is still very much at the beginning with 3 teams having 2 victories so everything is still open, while in group A

4Kings
secured a spot for the playoffs and the others are still fighting for the remaining two spots.
Upcoming match:

Serious Gaming vs

Excelsior at
15:00 CDT, 10 May 2011
.
Group A
14:00 CDT, 8 May 2011 | xentorium - doctor)))+1 - wildcard
15:00 CDT, 5 May 2011 | Bloodface 1-2 4Kings - (Match report with demos & vods)
15:30 CDT, 8 May 2011 | Enemy Unknown - iMmune - wildcard
Group B
13:00 CDT, 4 May 2011 | District 9 0-2 Excelsior - (Match report & vods)
14:00 CDT, 4 May 2011 | Team.Alpha 1-2 Serious gaming - (Match report & vods)
14:30 CDT, 4 May 2011 | District 9 0-2 aCtion Ligan - (Match report & demos)
15:00 CDT, 10 May 2011 | Serious Gaming - Excelsior
14:00 CDT, 8 May 2011 | Rage gaming - aCtion Ligan - (Match report with demos & vods)
Official streams:

LevelUpTV
Links:

CB EC QL
,
Groups
,
Roster
,
CBooky
,

#clanbase.ql
,

cbqlcrew
Edited by PerpetualWar at 16:19 CDT, 8 May 2011 - 21936 Hits