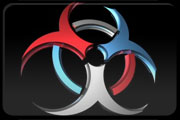 So the first two weeks we'll see a lot of games! Each team will play 3 games during these two weeks. So it's time to start scheduling.
As usual tell me or ethad ASAP when you scheduled the game.
It's close to impossible for us to run this event otherwise.
(Since every group has 5 teams one team has to sit out every round. That causes that some teams will just have to play 2 games these weeks)
GAMES HAS TO BE PLAYED BEFORE MONDAY 27/4
Edited by blaze at 07:29 CDT, 15 April 2009 - 11280 Hits